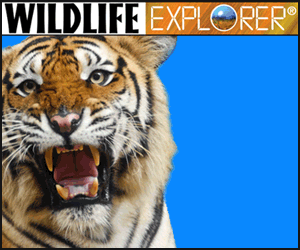 Need a great gift for a little adventurer who loves nature and science?  
Check out the Wildlife Explorer Package for just $5.95 (an $82 value!) shipped, and let the fun begin!
Included in the Wildlife Explorer Package:
36 AMAZING Wildlife Explorer® Cards
Fun, adventure and learning for you and your child
FREE Binoculars, Compass and Flashlight
Stunning, up-close pictures & rare facts of dozens of animals
Plus FREE Shipping
Not available in stores
A total of 36 unbelievable cards bring your child face to face with mammals, reptiles, birds and insects.  Each card is loaded with stunning photographs, fascinating facts and helpful illustrations.
Three-Ring Binder & "Quick-Find" Dividers – protect, organize and locate your child's favorite cards quickly and easily.
4-Piece Adventure Kit – your child will set off on a voyage of discovery and learning with an expedition-ready kit including binoculars, flashlight, compass and a handy case.
If you are having trouble seeing this offer, you may want to try switching browsers.
If you'd like to keep receiving shipments, do nothing after signing up.  Otherwise you will need to adjust your account accordingly.
Enjoy!
(This post may contain affiliate or referral links. Please see our disclosure policy.)