Here's some GREAT news if you are in need of a new pair of glasses and don't want to pay a fortune to get them!
Head on over to Coastal.com and use code FIRSTPAIRFREE to score a FREE pair!  You will have to pay shipping on these (around $13) but what an awesome deal!
I have not personally done this deal, but I have several friends who have and they absolutely LOVE their glasses!  Here is a pic of a pair a friend sent me from Coastal.com:
Keep in mind, you will have to pay extra if your prescription is stronger than standard lenses or if there are upgrades made.  You can try your free pair on at home, and if the frames don't fit return shipping is free!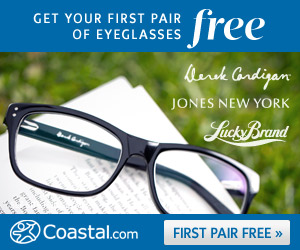 Grab your FREE pair  of eyeglasses today!  Hurry – this offer ends 7/31/14!!