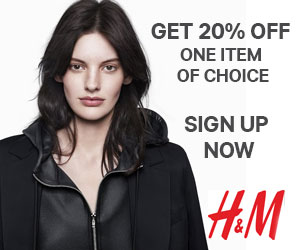 Sign up for H&M´s Fashion News so you can stay up to date on the latest trends and fashion must-haves!
Their editors will provide styling tips and give you a sneak peak of the new merchandise, guest designer collaborations, exclusive fashion collections as well as special online & in-store offers.
Sign up now and receive 20% off one item (excludes clearance)!  PLUS, score FREE shipping on all orders of $50 or more with code 3130 at checkout – stack these two offers for a super sweet deal!
Sign up and get 20% off 1 item to use in-store and online at H&M (excludes clearance)!
Find more retail deals and coupons here!