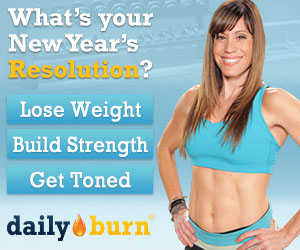 I don't know about you, but my winter diet of heavier foods always shows up on my waistline sooner than I'd like.  I've got about 10-15 to lose before bathing suit weather, so I'm getting on it now!
I have been looking at Daily Burn and it seems like a really sweet option to help motivate me!  AND, we can currently get it FREE for 30 days to test it out!
I like variety in my workouts – so I'm hoping this will keep me from becoming bored!  I really like the fact that you get access to all their workouts – so it's easy to change it up!  If you've tried Daily Burn I'd love to know what you think of it!
About Daily Burn:
Daily Burn is the future of online workouts.  They have the whole package!  Achieve your goals with their variety of workout videos, community support, and more.  You'll have access to ALL their workouts!
Try it free for 30 days.  After 30 days you will be charged $12.95 if you don't cancel your membership (cancel any time within the 30-day period).
Check out the workout choices on Daily Burn today!
Find more freebies here!